The Joe Jackson Interview. Nina Simone. 2002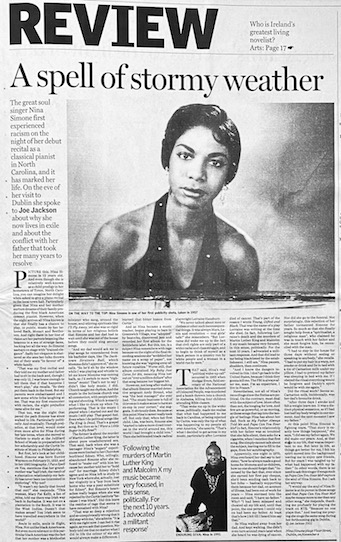 This article is copyright joe Jackson and must not be used in part or whole without permission in writing from the author.
Picture this. Nina Simone is twelve years old. And even though relatively well-known as a child prodigy in her hometown of Tyron, North Carolina, you can imagine her delight when asked to give a piano recital in the local town hall. Particularly given that Nina and her mother nurture dreams of their family producing the first Black American concert pianist. However, when the night arrives, all Nina knows is that she finally has a chance to play, in public, music by her beloved Bach, Mozart, and Beethoven. And right there in her line of vision are her parents beaming like beacons in a sea of strange faces, backing her all the way. So, Simone sashays on stage with "trained elegance." Sadly, her elegance is shattered as she sees her folks thrown out of their seats "in favour of " a white family.
"That was my first recital, and they told me my mother and father had to sit in the back and, though I was only 12, I was brave enough to tell them that if that happens, I won't play" she recalls. "So, they put them back in the front. But my parents were embarrassed, and I saw some white folks laughing at me.
That
was my first encounter with racism; the night prejudice came alive for me." That too was the night that paved the path Simone has since walked in life. Particularly politically. And musically. Though prejudice, at that level, would come even more alive for Nina during her late teens, when she moved to Harlem to study at the Julliard School of Music in preparation for her scholarship and the Curtis Institute of Music in Philadelphia. But first, let's look at her childhood. Simone was born Eunice Waymon on February 21st, 1933 and in her 1992 biography,
I Put A Spell on You
, mentions that her grandmother was "half Irish, the result of a plantation relationship my family has never been too interested in exploring." Why not? "It wasn't my family that found that out!" she responds. "This woman, Mary Pat Kelly, a fan of mine, told me there was Irish way back in Barbados. It was not on a plantation in the South. It was in the West Indies. Doesn't that make sense? You Irish seem to have travelled everywhere in the world!" Souls in exile, souls in flight, Nina. Not unlike Black Americans. But even more relevant to this particular Black American was the fact that her mother was a Methodist Minister who sang, around the house, soul-stirring spirituals like
I'll Fly Away
.  Yet also was so rigid in terms of her religious beliefs that Simone and her dad had to wait until she was out of the house before they could sing secular songs. "And my dad would ask me to play songs he remembered from his bachelor days, like
The Darktown Strutters Ball
, which momma didn't approve of" she recalls."So he'd sit by the window while I was playing and whistle to let me know momma was coming back, so I'd switch to more "righteous" music! That's not to say I didn't like holy music. I did. Church taught me rhythm. And the music in the holiness church was all commotion, with people testifying and shouting, which is exactly what I like to drum up when I'm performing. That is the music I played when I started out and the music I still play. That gospel feel. Even when I do political songs like
The King Is Dead
. That's a gospel song. But then so is
I Want A Little Sugar in My Bowl!"
The former is about the murder of Martin Luther King; the latter is about pure unadulterated sex. That said, back when she was a teenager Nina's "sugary" experiences were limited to her Cherokee boyfriend, Edney. Who, tellingly, abandoned Simone after she refused to "make out" with him because her mother told her to "hold out" for marriage. Edney didn't agree, and so Nina left to study in New York where she, actually, lost her virginity to a "boy from back home who was a poor substitute for Edney." But Simone's heartaches really began when she was rejected by the Curtis Institute "because I was black." Did this leave the residue of rage that seems to have remained with Nina? "That was so deep a rejection and so unequivocally wrong that it did stay with me," she admits." It is with me right now. I can feel it rise again, as you ask that question. Nobody told me that no matter what I did in life, the colour of my skin would always make a difference. I learned that bitter lesson from Curtis." And so, Nina became a music teacher, began playing in bars in Greenwich Village, was "adopted" by Beatniks, discovered jazz and recorded her first album for the Bethlehem label
.
But this, too, is a subject Nina remembers with rage because on the night of the final recording sessions she "scribbled her name on a scrap of paper" not knowing she was "signing away all future royalties." Worse still, that album contained
My Baby Just Cares for Me
, meaning Nina lost out on "over a million dollars" after that song became her biggest hit. However, not long after making that album Simone married detective sergeant Andy Stroud who was "the best manager" she ever had. "The music business is full of thieves, so it makes sense to have an ex-cop in your corner," she suggests. It obviously is. Because, at this point, Nina's career really took off. Not only that. When her first child, Lisa, was born Simone also "started to take a more direct interest in the world around me, this world I had brought a child into." Then befriended Black-radical playwright Lorraine Hansbury. "We never talked about men or clothes or other such inconsequential things. It was always Marx, Lenin, and revolution – real girls talk!" she remembers. " But Lorraine did wake me up to the fact that Civil Rights are only part of a wider racial and class struggle and begin to think of myself as a black person in a country run by white people and a woman in a world run by men." That said, Nina's real "political wakeup call" occurred in '63 when NAACP Field Secretary Medgar Evers was murdered and a bomb thrown into a church in Alabama, killing four children attending Bible classes. "That woke me up in the wider sense, politically, made me realise that what had happened to me back in Carolina, or being rejected by Curtis, was only the tip of what was happening to my people all over America" she asserts. "
That's what
I decided to get across in my music, particularly after Lorraine died of cancer. That's part of the reason I wrote
Young Gifted and Black.
 That was the name of a play Lorraine was writing at the time she died. In fact, following Lorraine's death and the murders of Martin Luther King and Malcolm X, my music became very focused, in this sense, politically. For the next ten years. I advocated a militant response. And that did lead to me being blacklisted by the establishment. I still am." Nina pauses, shudders then continues. "And I know the dangers involved in this. I don't go back to the United States because I think they gonna kill me. The FBI is always after me, man. I'm an expatriate; I live in France." Nevertheless, not all of Nina's recordings since the '60s are political. On the contrary, most deal with the subject of love. More often than not, the longing for love. And few are as powerful, or as moving as those songs that tap into the tangle of feelings, Nina has about her dad. Such as
My Father Always Told Me
and
Papa Can You Hear Me? 
In fact, Simone's relationship with her father was so troubled that she falls silent, then asks for a cigarette, when I mention that first song. She simply cannot talk about the subject, leaving me to fill in the gaps from her autobiography. Apparently, one night in 1970, Nina overheard her dad say to her sister, "how he always made a good home for momma and us children, how no one should forget that." Incensed by the fact that, ever since she earned her first paycheque, she'd been sending cash back to her folks – basically supporting them because her dad, on account of illness, had been out of work for years – Nina stormed into the room and said, "I have no father." Why? "I had been misused and cheated all my life and, until that point, the one person I could rely on had been my father. At least that's how I felt 'till I heard him say that." So Nina walked away from her dad. And she kept walking. She didn't even turn around years later when she heard he was dying of cancer. Nor did she go to the funeral. Not surprisingly, this rejection of her father tormented Simone for years. So much so she finally sought help from a "spiritualist, a religious man" who claimed he was in touch with her father and must forgive him, be reconciled with the man. "I had to stay in the house for three days without seeing or speaking to anybody," she recalls. "I had to put my hair in a warp, not smoke or drink and lie in bed with a tin of carnation milk under my pillow. I had to pretend my father was sleeping in bed with me. If I obeyed the ritual, everything would be forgiven, and daddy's spirit would be with me again." Did the ritual work? Seems so. Carnation milk, incidentally, was her dad's favourite drink. "After three days, I awoke and felt a weight leave me. It was a distinct physical sensation as if I had lost half my body weight in one moment. And the next moment I saw my father." At this point, Nina Simone is fighting tears. "That story is exactly how things happened," she says." I did see my father again. We did make or peace. And, at that stage in my life, that was so important to me. But later in life, as things got better for me, I felt his spirit moved into the background, leaving me to enjoy new friends. But for years, I was tangled up by what had happened with my father." In other words, there is no need to ask this singer if songs such as
Papa Can You Hear Me?
capture the soul of Nina Simone. But I ask her anyway. "I would say the soul of Nina Simone is at its purest in those songs and that
Pappa Can You Hear Me
? maybe means more to me than any other song" she responds, thanking me profusely for playing the track on RTE. "Because no ,one plays that." And leaving me praying she sings the same song during her forthcoming gig in Dublin.
Copyright: Joe Jackson