The Joe Jackson Interview. Johnny Cash. 1993.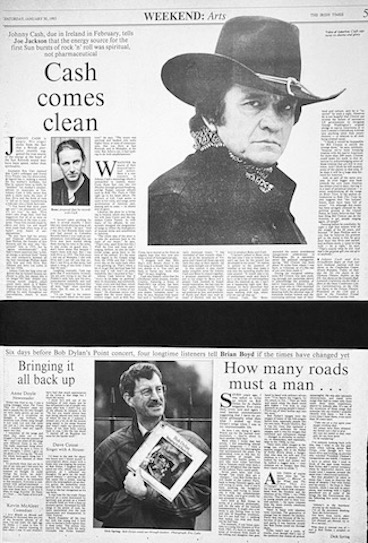 This interview is copyright Joe Jackson and must not be used in part of whole without permission in writing from the author.                                            
Johnny Cash is angry.  He  may  have  had  his  artistic  and  financial  differences  with  Sam Phillips, the  founder  of  Sun record  and  the  man  who "discovered" him  in  1955 , but  he "agrees  wholeheartedly" with Sam's recent  assertion  that "a  feel,  an  energy, a  spiritual  force" forms  the  core  connective  between  all  the  best  recordings  Phillips  made  with  him  and with Elvis, Roy  Orbison  and  Jerry  Lee  Lewis  in  the  late  1950s.
Responding further to the claims Sam Phillips made last week in The Irish Times   Cash refers to Kris Kristofferson, who is appearing with him on his forthcoming Irish tour.
"I was talking with Kris about definitions of "spiritual" music just the other day, and he said "your music and mine, it's all spiritual, no matter what the subject matter is.  Because there is a certain spirit in all the songs we record, the human spirit empowered by a greater spirit." Yet when Kris says this, I know that, as with Sam Phillips and Elvis, neither he nor I are trying to tie that spirit down to any one religious base. There is no dogma attached, no doctrine. We're not preaching." Cash's anger stems from the fact that British journalist Roy Carr recently suggested that the true source of the energy at the heart of the Sun sound, may have been speed, rather than spirituality.  Carr claimed that Cash's colleague, and friend, Elvis Presley was not discovered, as legend has it, making a record for his mother's birthday but that he wanted fame so badly he "peddled" his mother's amphetamines to musicians at Sun. Johnny Cash is fully aware that such a claim turns the story of Sun, Elvis and the birth of rock 'n' roll on its head, transforming a folk-tale into a form of black fairy-tale. "I first heard that story years ago, and I can absolutely tell you it's nottrue," he says. "Elvis didn't take drugs then. And that suggestion that all of us were on amphetamines at the time is nonsense. Those first records made by Elvis and Jerry Lee and I were made back when most of us hadn't even heard of amphetamines." Johnny Cash has long since admitted that he himself became addicted to pills but claims this is no longer is the case, despite continuing mouth surgery which could easily result in a dependency on painkillers. The last time I talked with him, in 1991, he was jabbing his neck throughout our conversation, clearly in acute pain. "I haven't taken anything for pain in several months. I don't take any mood-altering drug at all, and I don't drink," he says. "And I was on Sun Records three years and had moved to Columbia records before I ever took an amphetamine. And although they say Elvis may have started taking them during his time in the army, to stay awake on guard duty, I don't know about that because I wasn't there with him.  But I was with Elvis in 1955. The first tours I did out of Memphis I did with Elvis, and I can tell you that neither I nor Elvis, at that point, had taken a drug of any kind.  I know that for sure." Laughing Cash ironically suggests that if rock history revisionists are now trying to say that all Presley's early hits, and his own, jump-started rockabilly and rock 'n' roll into existence because they all were "high" when recording them, this he sees as "a compliment." "I'd use "high" in the context you originally asked me this question!" he says. "The music was spiritual and hooked into some higher force, or state of consciousness, that was there at Sun Records, and in   Memphis, at the time. But, believe me, it had nothing to do with amphetamines." Whatever the source of their musical/spiritual power there is a consistency in Johnny Cash's recordings which is unmatched in country music. From those Sun cuts like
Get Rhythm
through ground-breaking, pre-St. Pepper's concept albums such as
Ride This Train
in 1960 right up to his latest album 
The Mystery of Life
Cash seems to carry in his voice, and songs, some quintessence of America past, passing and to come – its shame and its glory.  Likewise, the show he is bringing to Ireland, which also features his wife June Carter and the legendary Carter Family. As with many of his albums, he consciously designed the programme of songs to reflect the multiplicity of musical styles and sensibilities in America. "The whole idea of the show is to take the audience back to the roots of our music," he says. "That's why, apart from hits like
I Walk the Line
and June and I singing
Jackson
we also do traditional songs, going back to the turn of the century. It's the same about the gospel songs from the 1930s and that I heard every day on the radio back when I was growing up. That's where a lot of us got that spiritual base that fed into rock 'n' roll. And I do some rockabilly like I recorded at Sun." Johnny Cash believes that if "music is to keep on growing" then its musicians, and audiences, "must, every now and then, return to the roots to see where we came from, who we are
,
in terms of our music." He dismisses critics who suggest that the newer breed of country singer, such as Billy Ray Cyrus, have moved so far from an organic base that they now produce a kind of homogenised pap. "I disagree with that.  Billy Ray's
Achy Breaky Heart
is the first song in a decade that just two chords in it.  You can't get back to basics any more than that!" he says, laughing. Cash also happily notes that the Chieftains latest project,
Another Country, featuring
a brace of Nashville's top artists, has been nominated for five Grammy Awards. This kind of musical fusion makes "complete sense" to him, he says, because Irish music had such a "profound effect" on early American music. "I was reminded of that recently when I was up in the mountains of Virginia, and I heard all those jigs and reels they play at their dances.  All that came straight out of Ireland." In this context it also would make complete sense for Johnny Cash and Bono to record together, a proposal apparently originally put to the singer by Bono and a project Cash claimed he hoped would materialise, the last time he and I spoke.  More recently "Cowboy" Jack Clement, Cash's original producer at Sun, and producer of Rattle
and Hum cuts
like
Angel of Harlem,
told me he'd love to produce Bono and Cash. "I haven't talked to Bono since the last time  I was in Ireland, so  I can't say how far the project has developed in his mand" he replies in answer to the question of whether or not they may make a trip into the recording studio this time around. "It would take a lot of preliminary work, and there'd have to be a lot of conversations about the material so, no I can't see it happening right now.  But, because we have identified that common ground, I would really enjoy working with him, whenever we can set that up." Johnny Cash, as with Bono, attended the recent Presidential Inauguration celebrations in Washington.  He is optimistic about the political changeover, saying "Bill Clinton was born about 50 miles from where I was born, in Arkansas, so it's like one of our own boys made it." However, wouldn't Johnny Cash agree that the Southern United States of America, as with country music itself, is often perceived as a breeding ground for racism? How does he think his fellow Southerners will respond to the fact that 80% of the artists performing for Clinton outside the Abraham Lincoln Memorial Centre were black? Didn't Kennedy find himself in conflict with Southern powerbrokers when he was seen to be pushing through a Civil Rights Bill? "Let's take the Southerner out of this. There are more Ku Klux Klan's in the North than there are in the South, though not many people talk about that" he says, a little defensively. "Yes, Kennedy had that trouble, yet although he knew that would be the form of resistance he'd meet, he was fearless, as far as I'm concerned.  And I see that same fearlessness in Bill Clinton. There are a lot of things he will do that will aggravate the far-right, but I believe he too will push those things through because he knows it's the right thing to do." During the inaugural celebrations, Bill Clinton was seen pushing through one crowd to acknowledge the presence of Native Americans.  Johnny Cash, as an artist who, in 1964, recorded
Bitter Tears,
an album graphically detailing both the physical rape of American Indian women and the continuing political rape of their land and culture, says he is "inspired" by such a sight.  However, he is not hopeful that Clinton can reverse the failure of successive American Governments to recognise George Washington's original pledge to Native Americans or to turn Lincoln's
Gettysburg Address
into anything other than empty rhetoric- in relation to all men being created equal. "I think it would be impossible for Bill Clinton to rectify the wrongs done," he says, solemnly. "Because we've been breaking treaties with the Native American for more than 200 years.  Clinton could make his mark in that direction by acknowledging some of those treaties that are still in existence.  And I think he will support some of the claims in that area. If he does, it will be a huge step forward for America." Yet although this music has been savagely silenced by the political process in the United States, he firmly believes that "the best thing Bill Clinton can do for America is get people singing again, all
 people Pausing before he concludes he sighs a sigh that echoes with all the weight of his 60 years, and beyond. "If Sam Phillips said to you that he believes his greatest gift to the world is that he gave poor boys like Elvis and me, and millions more, a voice to sing with – he is right. "he says. "That's exactly what he did.  And that's the greatest gift you can give to anybody."
Copyright: Joe Jackson 1993